GRAMMY AWARD WINNING, R&B SENSATION MYA
Debuts on "DANCING with the STARS"
[Washington, DC, September 22, 2009]/MJEnt. News/ ----- A Gardner Law Group client, and Grammy award winning R&B sensation MYA, is debuting as a highly anticipated cast member of season 9 on the famed television series "DANCING WITH THE STARS". MYA, represented by Paul W. Gardner Esq., has had overwhelming success as a singer, songwriter, record producer, and actor. Now she continues to shine on the latest installment of the number one competition dance show.
MYA is a classically trained dancer who's beauty, style and skill has her marked as the "people's choice" this season. One of MYA's long lists of accolades includes her spectacular performance in the acclaimed film Chicago. For "DANCING WITH THE STARS", MYA is well partnered with primetime Emmy nominee for choreography, Dmitry Chaplin.
As a DC native MYA, a community service advocate for young women and youth, founded the MYA Arts and Tech Foundation providing education in the arts and technology for inner city and suburban youth throughout the metropolitan Washington D.C. area.
"DANCING WITH THE STARS" on ABC premieres for three nights live and it's promising to be the hottest season yet. Stars among the cast include: Macy Gray, Melissa Joan Hart, Michael Irvin, Chuck Liddell, Donny Osmond, and Kelly Osborne. DC, MD, and VA areas congratulate and support MYA!! Premiere night #2 airs tonight on ABC (check your local listings). Make sure you support MYA as she competes during season 9 of ABC's "DANCING WITH THE STARS". Watch tonight and vote for MYA!!! (http://abc.go.com/shows/dancing-with-the-stars)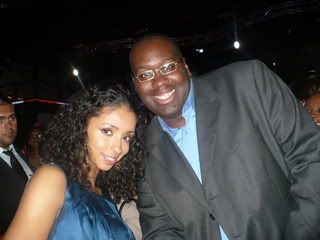 ____________________________________
Attorney Paul Gardner, headquartered in Baltimore, MD, specializes in major recording deals, publishing rights, corporate mergers/acquisitions, film/television contracting, and athlete/sport endorsement deals. Some of his firm's high-profile clients include: Darkroom Productions (music producers of HBO's The Wire and MTV's Rob and Big); Belinda 'BiBi' McGill (lead guitarist for Beyonce's all-female band); MYA (national recording artist); Dr. Benjamin Chavis (former head of the NAACP as well as co-founder of the Hip-Hop Action Network with Russell Simmons); Los (formerly of Bad Boy Records); Angel Lola Luv aka Lola Monroe (model/actress/video vixen/rap artist); DJ Class (national recording artist with Universal Republic); Michael "Blue" Williams (Outkast's Management); Bizzy Bone (of Bone Thugs-N-Harmony); Tommy Davidson (actor/comedian); Felicia "Snoop" Pearson (actress of The Wire); Jacki O (rap artist); Grouchy Greg (co-founder of Allhiphop.com); Ezra "Buddha" Masters (actor/model); Rosa Acosta (model/actress/video vixen); Unruly Productions (My Crew Be Unruly), and many more. [Follow @pgardnerii at Twitter.com]